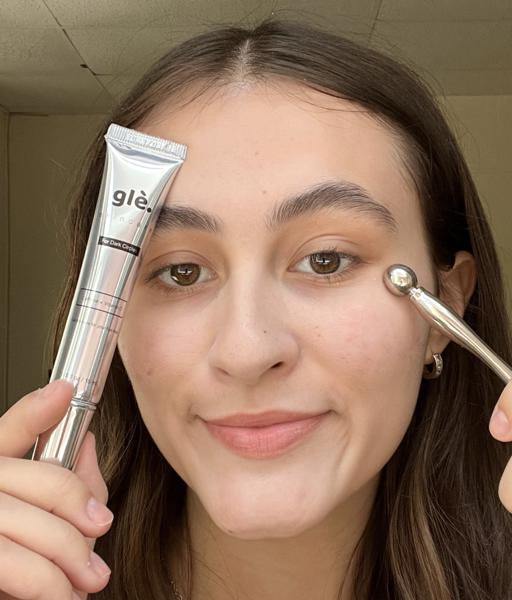 Posted on September 23, 2022 by Joana
Gle for Dark Circles is an eye serum made from all-natural ingredients and an innovative fragrance, which rejuvenates the skin, and keeps it healthy throughout the day and night. It is a unisex skincare product that purports to downplay early signs of aging by giving your skin an all-around natural boost.
The cream peculiarly targets the area around your eyes, where in most cases, the first aging symptoms appear. It claims to erase fine lines, dark circles, wrinkles, puffiness, and firm saggy skin in the eye region. Continued use of this eye cream makes these signs disappear.
Is Gle for Dark Circles Any Good?
This cream might help make a person look younger than their age in that it helps repair wrinkles and dark circles that appear around the eyes, making the skin smooth and brighter. Besides that, it is said to improve sagged skin, puffiness, and blemishes. It is also said to penetrate through the skin to give it a radiant and youthful look.
What are the Ingredients in Gle for Dark Circles?
Ingredients for Gle for dark circles include the following:
Vitamin C – Some studies point to this vitamin as a powerful antioxidant, and it stimulates collagen production, which decreases because of aging. It also helps with skin hydration and pigmentation. The Journal of Clinical and Aesthetic Dermatology purports that vitamin C is a powerful antioxidant that protects the skin from environmental aggressors like solar radiation and free radicals.
Caffeine – This is an efficient ingredient in anti-aging. It is supposedly packed with anti-inflammatories and antioxidants that help in the reduction of dark circles around the eyes. It may brighten the skin and reduce puffiness. According to The Journal of Theranostics, oxidant stress-induced senescence speeds up the aging process. So, caffeine is said to contain properties that protect the skin from aging.
Aqua (Water) - This ingredient allegedly plays the role of strengthening the skin barrier function, which protects the skin from losing moisture. An article in the Journal of Marine Drugs claims that water combined with other marine ingredients produces a stable epidermal barrier, which helps in the restoration of skin moisture.
Sodium Hyaluronate - This is among the components that are regarded to have unique moisturizing properties and is said to protect the skin from losing moisture. A review in the Dermato Endocrinology claims that this ingredient is a key molecule in skin aging. It claims to help in the retention of water in the skin.
How Does Gle for Dark Circles Work?
Gle for dark circles is made using key ingredients such as vitamin C and caffeine. Vitamin C purports to stimulate collagen production that decreases because of aging and protects the skin from damage caused by external aggressors. Caffeine is one popular ingredient of anti-aging. It is said to contain anti-inflammatories and antioxidants proven to reduce visible dark circles and puffiness. In precise, it is said to penetrate quickly into the skin and start to work immediately.
Gle for Dark Circles Pros & Cons
Pros
The product claims to be formulated using natural ingredients, making it safe for use.

It is maybe ideal for use on all types of skin.

Claims to hydrate the skin, reducing the aging symptoms

It purports to have skin barrier protection effects
Cons
Some users found it to have a drying effect on the skin

It might trigger an allergic response if you have a problem with scent

It may not offer maximum protection against the dry and sunny season

It May leave an unwanted feel on the skin
Gle for Dark Circles Reviews
Gle for dirk circles has a considerable number of reviews. The product has a star rating of 90% from 62 reviews. There are several positive reviews from those who have used the eye cream. Some customers said that the cream absorbs well and does not have a residue feeling on the skin. Others claimed that the eye cream seals and moisturizes the skin.
Some customers said that the eye cream works well on adult acne, and it is a good moisturizer that leaves the skin smooth, and soft with a refreshing scent. Others were satisfied with the eye cream and the price tag, saying that the cream works well on their skin and it is also affordable compared to products from other brands.
How to Use Gle for Dark Circles?
Apply the eye cream to your face and massage it gently until the cream absorbs into the skin. Use it in the evening and morning for optimal results.
Is Gle for Dark Circles Safe?
Gle for dark circles is said to be a pure skincare natural science product made using natural ingredients to ensure that it does not contain harmful fillers that will damage your skin. It claims to be activated using 100 percent biotechnology to provide an efficient skin solution to ensure your skin safety. It purports to be 1001% cruelty-free.
How Much Does Gle for Dark Circles Cost?
The cost of this eye cream is as follows:
Gle for dark circles single size costs $24.99
Double size costs $22 each
Triple size costs $19 each
Where Can I Buy Gle for Dark Circles?
Gle for dark circles eye cream is available for purchase from the brand's official website.
Does Gle for Dark Circles Have a Return Policy?
For now, the product does not have a return policy, but the company's official website, it says that this will be available soon.
Final Thought
There is nothing unique about the ingredients used in this night cream, but still, from the reviews, it appears like a product worth considering. That is, the formula profile is almost the same as other under-eye serums.
Nevertheless, many customers were happy with the results. The majority of them said that the product transformed their look on the face, and they recommend it to anyone struggling with aging symptoms, including wrinkles, under-eye puffiness, and dark circles.
However, like with other antiaging creams, everybody gets varying results, and for that, some customers aren't happy with the product. One customer claimed that the cream leaves a greasy feeling on the skin, while another one said that it causes a skin reaction.
Nonetheless, the downsides may not be enough to discourage someone who wants to experiment and see how the cream may work for them.