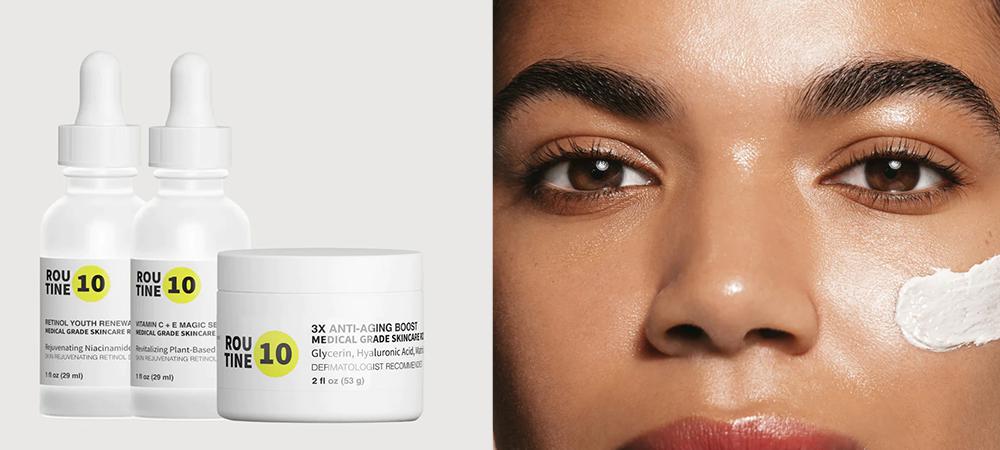 Posted on September 28, 2022 by Joana
About Routine10
If you love taking care of your skin, then you know that skincare products can be pricey. This is especially true if you want all-natural, organic ingredients. Routine10 is a skincare company that sells high-quality products without a high price tag. They want men and women to create a budget-friendly skincare routine without having to skimp on quality ingredients. They understand that everybody's skin is different, and we all have unique needs. As a result, they created a comprehensive skincare line with products that target all skin types and conditions. Get to know the company, their products, and why Routine 10 is the perfect choice to help you build the ideal skincare routine.
Overview of Routine10
Do you know that when you buy skincare products online that are delivered in luxury packaging, you're spending more? So many people are enamored by beautiful designs and fancy materials that they don't realize they paid for it. Routine10 focuses less on the packaging you're bound to throw away in a matter of days, and more on the quality ingredients within their skincare line. They keep their packages simple for two reasons: it's better for the environment and their customers spend less on high-quality skincare products.
What makes Routine 10 different?
A wide variety of skin care products, from face cleansers to facial serums
All-natural, organic ingredients that are effective at treating skin conditions
An affordable, high-quality skincare line
Cruelty-free products
Sustainable packaging and biodegradable products
Affordable subscription
Generous return policy
They have many anti-aging products, which everybody over the age of 25 should care about. They also have cleansers and moisturizers that will make a perfect addition to your daily skincare routine. Whether you have normal skin that's easy to maintain or combination skin that requires a unique balance of skincare products, there's something for everyone. Read the reviews about some of their most popular products to see why we're raving over Routine10.
Routine10 Products Review
We love this company's comprehensive line of skincare products. You'll find anti-aging creams for mature skin, peptide serums to get rid of dark, puffy eyes, and moisturizers to replenish dehydrated skin. While there are too many products to review, here's a sample of what Routine10 offers.
Routine 10 Retinol + Collagen Night Cream Review
Fighting the signs of age is a constant battle that shouldn't stop while we sleep. Introducing Retinol + Collagen Night Cream, an age-defying moisturizer that can fade fine lines, wrinkles, and other tell-tale signs of aging skin. It's formulated with powerful ingredients, as the name implies.
Retinol is a popular anti-aging ingredient for its ability to increase skin cell production. New skin cells replace the tired old skin cells that are attributed to dull, congested skin. Perhaps more importantly, retinol is known to increase collagen production to create plumper skin and reduce the appearance of fine lines and wrinkles.
Even though retinol can produce collagen, this formula takes it one step further by making collagen one of three active ingredients. Adding collagen to anti-aging products is a tried-and-true method, as it goes beneath the skin to improve skin elasticity, helping skin bounce back from free radicals and environmental stressors. It also promotes hydration, a must for younger-looking skin.
Let's not stop with collagen for increased hydration. Hyaluronic acid is a substance the body naturally produces, which benefits many parts, including skin. One of the main things it's known for is moisture retention. For example, a quarter teaspoon of HA holds roughly 1.5 gallons of water. No wonder it's frequently found in moisturizers, lotions, cleansers, and serums. You'll also find it in Retinol + Collagen Night Cream to help fight the signs of aging while you sleep.
Niacinamide 3% & Hyaluronic Acid Serum Review
Niacinamide has been the skincare buzz word over the past few years. People can't stop talking about this all-around ingredient. Why ask "what can it do" when the easier question to answer is "what can't it do?" For starters, niacinamide is a popular skincare ingredient because it:
Works with your body to improve the health and appearance of your skin
Has anti-inflammatory properties to prevent UV damage and inflammation
Clears the skin by minimizing pores
Is suitable for multiple skin types, including mature, sensitive, and combination skin
Treats skin conditions, such as rosacea, acne, and hyperpigmentation
As you can see, this is an ingredient you want in your serum. Niacinamide 3% & Hyaluronic Acid Serum not only contains niacinamide but as the name implies, hyaluronic acid. As you already know, hyaluronic acid is a crucial ingredient for retaining water, reducing wrinkles, and keeping the skin firm and youthful.
We recommend applying this serum morning and night, right after cleansing your face.
Clarifying Rose Water Face Toner Review
Face toners remove any remaining dirt, grime, and pollutants that linger on your face after cleansing. They can drastically minimize pores and restore your skin's pH level, which impacts the texture of your skin. So, if you wondered whether face toners were useless, they're not. If you want a minimal skincare routine, face toners aren't the most essential skincare product, but they can help you achieve that glassy smooth finish.
The Clarifying Rose Water Face Toner by Routine10 does all the above and then some. With hydrating ingredients, like rose extract, it can return moisture to your skin after your face wash. The bottle comes with a convenient spray nozzle, so all you need to do is spritz the formula across your face and let the nutrients settle into your skin. Continue with your skincare routine by applying the next lightest product (most likely your serum) to your heaviest (SPF during the day or moisturizer at night).
The natural ingredients of rose extract, witch hazel, and aloe vera provide a deep clean without stripping your skin of essential oils. We highly recommend this product for:
Oily skin types
Combination skin types
Acne-prone skin
Nevertheless, anyone can benefit from the clarifying benefits of this rose water face toner.
What do Our Customers Think?
You know what we think about Routine10! We applaud skincare companies that focus on natural ingredients and an enjoyable experience over fancy packaging and high prices. If you are looking for new skincare products to build a basic routine, they have everything you need. Now, what do their customers think about their products?
Routine10 3X Anti-Aging Boost Customer Reviews
"This is by far the best face moisturizer ever. I have never had one that is this lightweight before. It's not greasy, or sticky either and I have super sensitive skin and it didn't make me break out in hives so that was a winner for me. I will definitely buy this again. As long as it's on the market." – Beckie H.
"By the time women are 60 yrs old (like myself), we have drawers full of face products that DO NOT live up to its promises. Your product did produce positive results! I apply it daily. -Under eye wrinkles are GONE. - Upper lip wrinkles are noticeably less. -Overall skin appearance is smoother with a bit of a radiant glow. The one negative aspect of your product is (it) leaves my face feeling too dry that I must follow with a heavy moisturizer" – Issy R.
Routine10 Niacinamide 3% & Hyaluronic Acid Serum Customer Reviews
"As a Licensed Cosmetologist - I highly recommend this serum. It is just the right consistency. Not to thin not to thick. The hyaluronic acid is very hydrating. The price is very reasonable." – Mahalia D.
"The serum has a nice feel and is very moisturizing without being sticky. I'm excited to incorporate this into my daily routine. I will update once I've been using awhile." – Sallie T.
Routine10 Clarifying Rose Water Face Toner Customer Reviews
"I love this toner! It moisturizes and softens my skin while reducing redness. I use it twice a day, once in the morning to cleanse my face and once in the evening after washing my face. This is a staple for sure in my skincare routine. I would definitely recommend for any skin type. It has been especially helpful to my overly sensitive and acne prone skin when used in combination with a moisturizing oil." – Nikolia G.
"I've used this for a while now and it is fabulous. No problems with dry winter skin. I use it nightly to make sure all makeup is vanished. My skin never feels dry and I use prescription Retin A. My skin is sensitive so I only look for the most gentlest organic skin care I can find. I highly recommend this Poppy Austin Organic Rose toner!!! You won't be disappointed and your skin will show the glow!!!!!" – Janna Sprake
The company is still new, so as more reviews flood in, we'll make sure to update! The consensus is positive, as Routine10 is a skincare company that has a product for every skin type. It's definitely worth checking out and with its monthly subscription, you'll receive every product for just $10.
Is Routine10 Worth It?
We believe in all-natural skincare products for healthy, younger-looking skin. We want to completely say goodbye to companies that still use sulfates, parabens, synthetic fragrances, and other harmful ingredients in their skincare products. We also stand by companies that are 100% cruelty-free and are committed to protecting the environment. Excess packaging and luxury packaging is harmful and unnecessary.
So, while we believe Routine10 is worth the time and investment, we encourage you to review their products, sustainability pledge, and draw your own conclusion.
Promotions & Discounts
If you opt into the recommended monthly subscription, all the products you see on Routine10 are just $10! You will also receive FREE shipping if your order is over $50 (U.S. and Canada only).
Where to Buy Routine10 Products
Currently, you can purchase your Routine10 products on the company's official website.
FAQ
Where are their products made?
All their products are formulated and manufactured in an FDA-certified facility in the United States.
Are their products tested on animals?
None of their products have been tested on animals! The company is 100% CRUELTY-FREE!
Is there a money-back guarantee?
Routine10 offers a 30-day money-back guarantee on all products.
How to Contact Routine10
You can contact them by calling 1 (754) 232-1788 between 9 AM – 5 PM EST. You can also email them any time at [email protected], and a representative will quickly get back to you.